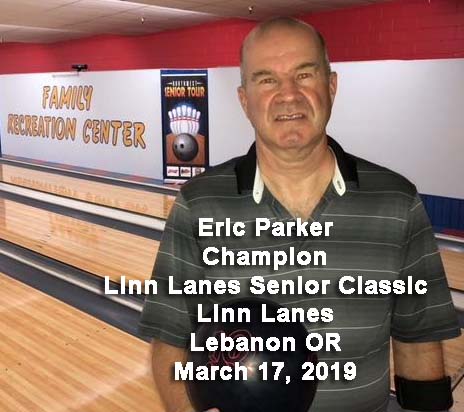 Lebanon, OR bowler Eric Parker is the 2019 Linn Lanes Senior Classic champion. Eric bowled very well all day but still needed to throw a strike on his first shot of the tenth frame of the final game to claim the title over Garret Ball.
Ball won a 9th and 10th frame roll off with Frank Dietz 60-58 to earn the final spot in match play. With the help of a 300 game, Garret averaged 261 in match play to jump 11 spots.
Tim Myers had another fine tournament grabbing third place. Qualifying leader Trent Zabelle settled for fourth place. Trent rolled a 300 game and an 836 series in qualifying.
The entire Northwest Senior Tour wishes to thank Gary Heintzman and Linn Lanes Bowling Center for hosting the players. Also, thank you to Butch Jordan and The New Dick's Pro Shop for his sponsorship. Hammer Bowling represented by Adam Ishman is a season long sponsor of the Northwest Senior Tour.
The next stop on the Tour is the 90+ Doubles at Walnut City Lanes in McMinnville, OR March 30-31.