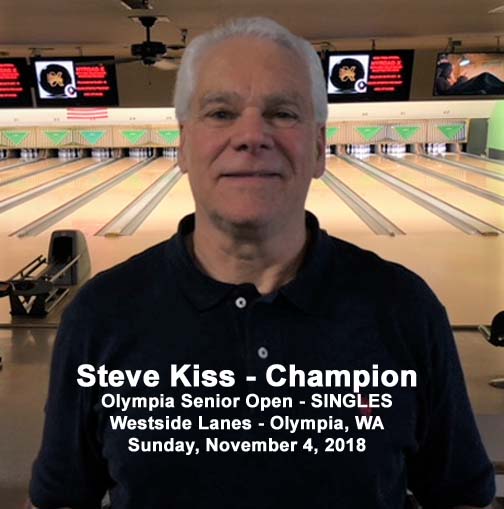 On Sunday November 4 Steve Kiss, Clackamas, OR, had a great day on the lanes winning the Olympia Senior Open at Westside Lanes in Olympia, WA. Kiss lead qualifying with a 245 average for the 6 games including a 300 game. His work wasn't over as 7th place was only 60 pins behind.
After the first game of match play Kiss retained the lead shooting 278 and faced Randy Macomber who had 280 in game 1. Steve defeated Randy and then had to face Drew Robertson in game 3. Victorious over Robertson he was up against Macomber in Game 4 for the title. Kiss prevailed 248-233 for the win.
Macomber held on to 2nd place. Robertson was 13 pins back in 3rd, 39 pins ahead of 4th place Eric Parker. Blaine Weninger shot 289 the final game to slide up to 5th.
The entire NW Senior Tour wants to thank Mike O'Malley and his staff at Westside Lanes. They were great hosts.
The 2018-19 season sponsor for the NWST is Hammer Bowling represented by Adam Ishman.