The NWST was formed in 1990 to provide scratch tournaments for senior bowlers, 50 and older. Since its inception a number of changes have been made to improve the organization and encourage more bowlers to participate. Among these are:
The addition of women bowlers 40 and over
A Super Senior class for bowlers 60 to 64
A Super Senior + class for bowlers 65 and older
The leadership of this member-owned organization continues to solicit suggestions for additional improvements.
The NWST has a remarkable history of bowling accomplishments. Here's a summary of highlights from 1990 - 2017
674 bowlers have competed in the NWST
90% of all participants have received a cash payout
215 bowlers have bowled 241 - 300 games
41 bowlers have bowled 64 - 800 series with a high of 859
$6,137 won by a single bowler in a single year
$41,747 won by a single bowler over several years
$1,787,480.50 has been paid out in prizes since the inception of the NWST

Check out the
Statistics
page to see who's done what! Also check out the
Schedule
page to find information on future tournaments and the results of ones that have already been bowled.
---
Click
HERE
for results of the
Tour Championship - SINGLES - Wilsonville Lanes - Wilsonville, OR - May 18-19, 2019

Next Tournament: Open Doubles - DOUBLES - KingPins - Portland, OR - Sunday, August 25, 2019
Download 2019 - 2020 schedule here.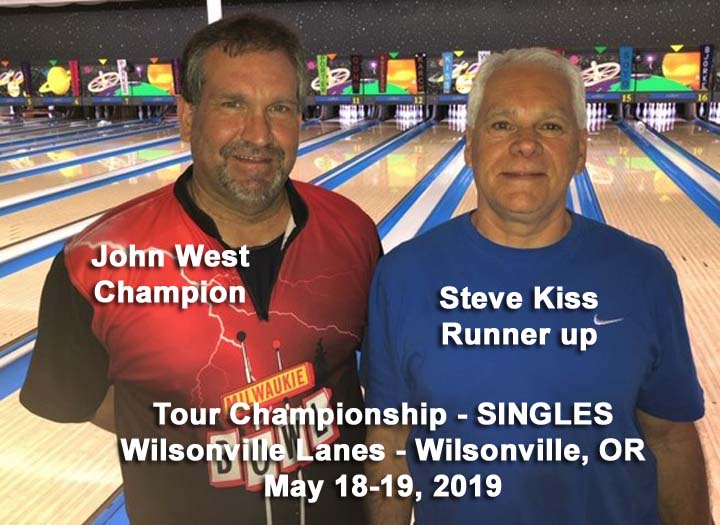 The 2019 winner of the Northwest Senior Tour Championship is John West.  After 20 games of qualifying and match play, John edged out Steve Kiss by a mere 16 pins.  Kiss led the 8 games of qualifying by 12 pins over West.
Jimmie Dillingham finished third only 39 pins from the top.  Tracey Gunn claimed the fourth spot with Garret Ball winning 8 of 12 matches to move up three spots from qualifying to finish fifth.
Wilsonville Lanes was once again great hosts for the Tour Championship. 
The Northwest Senior Tour has great appreciation to Breakside Brewery and Ninkasi Brewing for being title sponsors for the second consecutive year of the NWST Tour Championship.  Please look for their products in your bowling center.